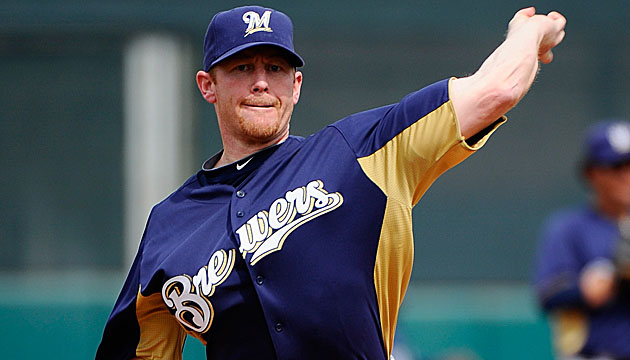 By Matt Snyder
Whether it's
Zack Greinke
's rib injury,
Yuniesky Betancourt
's quad or
Carlos Gomez
's back, things generally haven't been feeling physically well at
Brewers
camp. They seem to have at least a minor malady for everyone on the team -- even two guys with an intercostal injury, which I didn't even know was a thing. Apparently they are muscles on the rib cage that help contract the chest.
Chris Dickerson
is someone who has that issue. He hurt his Monday against the
Giants
, when he had an ugly collision with
Pablo Sandoval
. It wasn't exactly a Casey-level beatdown, but Dickerson seemed to have lost. The collision prompted a somewhat humorous/somewhat realistic quote from
Randy Wolf
.
"Thank God Sandoval lost 30 pounds or that might have been a decapitation," Wolf told the
Milwaukee Journal-Sentinel
. "I thought he dislocated his shoulder. It sounded bad."
Wolf later added he's afraid to walk to his car, and he may not have been kidding.
The Brewers can take solace in the fact that it's only spring and they haven't lost anyone for the season yet, like their division-mate
Cardinals
.
DREW'S MOOD HATS:
Potential
Nationals
closer
Drew Storen
had struggled this spring, but put together a solid outing Monday. If you peered inside the brim of his hat, you'd have seen: "Down." "Precise." "Focus through the target." The youngster followed his own advice, setting the
Tigers
down in order in his one inning of work. Writing reminder messages in his hats isn't new for Storen, as he's already cycled through four this spring and has countless left from last year.
"It's kind of like a mood ring, it's a mood hat," he told the
Washington Times
. "I keep them all. Since there's so much going on, I'll be the first to admit, you get caught up in thinking about throwing things and try to do too much. It's just a nice, easy way to bring your mind back into it."
If a quirk like this seems weird, you've never been around a baseball locker room. In fact, this is relatively normal. Hey, whatever works.
STRASBURG PROGRESSING:
Speaking of Nationals pitchers drafted in the first round in 2009,
Stephen Strasburg
is reportedly making good progress as he rehabs from Tommy John surgery. He's now throwing 90 feet off flat ground and eyes a September return. As you might remember, he had the surgery last September and the normal recovery period is 12-18 months. But just because he has high expectations doesn't mean he's impatient.
"I have to no choice [but to be patient]. I can't just wake up the next morning expecting to get on the mound. It's a slow gradual process. It's about the slow steady progress. It has to take its time and let the body heal naturally." (
MLB.com
)
IN OR OUT?
Luis Castillo
might win the second base job for the
Mets
out of camp because they have no better options. But manager Terry Collins reportedly doesn't really want Castillo around -- only he hasn't officially said as much. Some believe the higher-ups on the Mets would rather Castillo start, but J.P. Ricciardi backs
Brad Emaus
. Basically, no one really knows what is going on. (
ESPN New York
)

BELTRE BACK:
Monday,
Adrian Beltre
made his spring debut, and it went off without a hitch. The third baseman -- who had been sidelined with a strained calf -- played five innings, going 1-3. His only issue had nothing to do with his calf and should be completely expected under the circumstances. "I felt a little bit rusty," he told the
Fort Worth Star-Telegram
.
PLAY IT AGAIN, RICH:
In the least surprising news of the spring,
Rich Harden
needs to see a doctor. He hasn't thrown a bullpen since February 15, but felt an issue in his lat muscle Sunday and it looks like he's going to be shut down again. (
MLB.com
) It's sad to say, but even at age 29, it's hard to see him ever regaining form for an extended period of time. That sparkling 2008 season -- 10-2, 2.07 ERA, 1.06 WHIP, 181 K in 148 innings -- will likely go down as his best. With the kind of stuff he has, when healthy, that's a shame.
UPDATE:
Susan Slusser reports
Harden will throw Wednesday and he hasn't suffered a setback.
WHAT IF ... :
MLB Trade Rumors
has put together a list of what the free agent class might look like at the end of this season if no one had signed extensions. It's worth a look for entertainment purposes.
IT'S ONLY SPRING, BUT ... :
... the
Diamondbacks
suck. The always-great Nick Piecoro of the
Arizona Republic
points out the Snakes would have a record of 4-13-3 if you only count the first five innings of every game this spring -- which is when the major-league starters are still in the game. Perhaps nothing could be more telling than a quote from manager Kirk Gibson: "I'm ready to be impressed, I can tell you that." Such a statement in the spring is troubling, because most of the time optimism is in the air.
BARTMAN MOVIE OUT SOON:
Catching Hell
, an ESPN 30-for-30 documentary about the infamous Steve Bartman foul ball (
Cubs
, Moises Alou,
Marlins
, 2003 NLCS, Game 6 ... c'mon, you know this) will debut at the Tribeca Film Festival, which takes place April 20-May 1 in New York City. The one thing that's amazing to me in the years since that inning is how much people -- non-Cubs fans, to be specific -- seem to enjoy pointing out the loss wasn't Bartman's fault. The insinuation behind this is that all Cubs fans blame the loss on Bartman, which couldn't be further from the truth. Go talk to a group of educated Cubs fans and
Alex Gonzalez
's name is much more blasphemous. I'll reserve judgment on the movie until it comes out, but I can't help but think some myths are going to be further perpetuated because a few jerk fans threw things at Bartman -- which was reprehensible. In fact, expect a further rant from me on the subject when the movie is released. (
Chicago Tribune
)
"BEST SHAPE OF MY LIFE!"
We've all heard it in spring training. We've all mocked it. But a sample of players the past few years who have declared they are in the best shape of their life have actually outperformed expectations more than players who didn't make such a declaration in the spring. It doesn't mean there's always merit behind the claim, but it's certainly an interesting query. (
Baseball Prospectus
)

THE GREEK GOD OF JOKES:
Kevin Youkilis
walked and then struck out to
Yankees
20-year-old prospect Manny Banuelos Monday night. So, naturally, Banuelos is a stud, right? "He's going to be a Hall of Famer," Youkilis told reporters (
New York Times
). He made it clear he was kidding, but didn't want to go overboard. When he got serious about the potential phenom, he was respectful.
"He's got three pitches he can throw pretty good, now he has to learn how to pitch," said Youkilis, adding: "If he figures it out, he'll be all right. Being left-handed and throwing hard, if you throw three good pitches and you're left-handed, you don't even have to throw 90."
For more baseball news, rumors and analysis, follow @cbssportsmlb on Twitter or subscribe to the RSS feed.