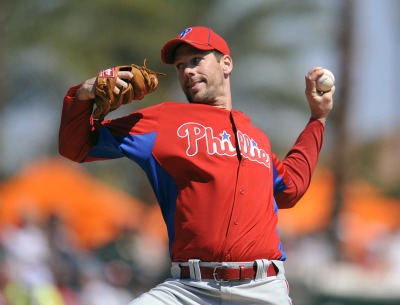 By Evan Brunell
When ousted Rangers CEO Chuck Greenberg stated he felt the Rangers finished No. 2 behind the Phillies in the bidding for ace Cliff Lee, Yankees president Randy Levine ripped Greenberg for being "delusional."
And yet, Lee himself confirmed the order of teams he would have signed with as he tells Philadelphia radio station WIP.
"Texas probably finished second to be honest with you," Lee said. "Just as far as the quality of the team and the chance to win a World Series ring, I think they're a better team. That's just my opinion. The Yankees can do anything at any moment to improve and they're not afraid to go do things. That was part of the decision making process too, but I felt like with what the Red Sox had done and it seems like some of the Yankee guys are getting older, but I liked the Rangers."
The Red Sox of course inked Carl Crawford to a major deal and traded for Adrian Gonzalez while also building the bullpen. The Yankees, meanwhile, are getting no younger but are just two years removed from a World Series title and is just one strong starting pitcher away from being a legitimate threat in October.
However, the Phillies are absolutely stacked and may have a better window of opportunity to win over the next several years than New York, doubly so when you look at the competition inside the division to finish first place. Texas, meanwhile, is a young team with quality players that should contend in the AL West for quite some time.
The stacked Phillies team and road to a ring was the deciding factor in his decision, Lee said -- not money, as had been rumored for months. "Probably just the quality of the team," Lee said as to his No. 1 factor. "My chance to win a ring or even multiple rings. That was probably at the top.
"I tried to remove all the money and the smaller things and which team would give me the best chance to win," Lee added.
Although Lee has appeared in the previous two World Series, a ring still eludes him -- and he'd like that to change.
"I haven't gone all the way yet. I haven't won a ring and that's what I want to do," he noted. "Hopefully I will get a few chances and walk away with a few rings. That's really what it's all about every year. That's the ultimate goal and I wanna come through on that a few times."
For more baseball news, rumors and analysis, follow @cbssportsmlb on Twitter or subscribe to the RSS feed.