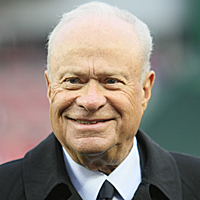 By Matt Snyder
Can the
Nationals
become the
Yankees
of the National League, in terms of payroll? OK, well, bad example. The Yankees are on a whole different level. Maybe the
Red Sox
of the NL? It's entirely possible, from a certain point of view. You see, Washington Nationals owner Ted Lerner is the richest owner in baseball, according to
Forbes'
list of world's billionaires (big ups to
Big League Stew
for the leg work in sorting through the list).
Lerner is worth $3 billion. If he should so decide -- as George Steinbrenner once did with the Yankees -- that winning is more important than making as much profit as possible, he could easily spend the Nationals into contention.
Remember, the Nationals were hot after both
Cliff Lee
(free agency) and
Zack Greinke
(via trade) in the offseason. They didn't scoff at paying
Stephen Strasburg
or
Bryce Harper
big money out of the draft. They gave 31-year-old
Jayson Werth
a seven-year, $126 million contract. With a beautiful new ballpark and a fanbase desperate for a winner -- just see the crowd for Strasburg's debut -- it doesn't seem too much a stretch to see the Nats becoming a power in the National League down the road.
This specific scenario is, again, contingent on Lerner worrying about wins more than the bottom line. The next step would be to convince free agents to join the Nationals, but with a strong young base and a seemingly endless supply of green, it could happen.
There are five more owners who made the list of billionaires: the
Tigers
' Mike Ilitch ($1.7 billion), Drayton McLane of the
Astros
($1.5 billion), Oakland's John Fisher ($1.1 billion), the
Angels
' Arte Moreno and Red Sox's John Henry (each at exactly $1 billion).
For more baseball news, rumors and analysis, follow @cbssportsmlb on Twitter or subscribe to the RSS feed.