UPDATE:
The
Braves
say coach Luis Salazar underwent surgery last night and was scheduled for more surgery today.
UPDATE:
Mariners
outfielder
Franklin Gutierrez
is the son-in-law of Braves coach Luis Salazar and has left Mariners camp to be with him, the team announced on Thursday. He is expected to return by Friday night.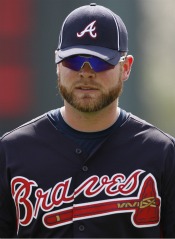 By C. Trent Rosecrans
Brian McCann isn't in the lineup for today's scheduled exhibition against the Cardinals, but he was at the Braves' complex, a day after his line drive sent minor league manager Luis Salazar to the hospital.
"It's a crazy, crazy thing that happened," McCann told reporters on Thursday (via the Atlanta Journal-Constitution). "So unfortunate. Just pray for recovery. Yesterday was a tragic day. …"
McCann hit a foul ball in the first inning that hit Salazar, standing in the dugout, in the face. Salazar was unconscious for about 20 minutes and many Braves thought he may die. He was then airlifted to an Orlando hospital, and McCann left the game. Salazar was diagnosed with multiple facial fractures and a damaged left eye. Doctors have ruled out brain damage.
McCann was in the team's clubhouse when a state trooper came in to tell him Salazar had resumed breathing on his own and regained consciousness in the helicopter ride to the hospital.

McCann spent about two hours with Salazar (left), his wife and son on Wednesday.
"It was good to go in and speak to him for a second," McCann said. "He knew I was there. You just pray for the best. There's nothing else you can do. Just a helpless feeling. I'm thinking about his family, his kids and wife.
"I just basically told them I'm sorry this happened, and let them know I'm here and I'm praying. It's just such a … it's upsetting, for sure."
By the sound of what McCann is saying, the incident is weighing heavily on him and could haunt him until Salazar is back to normal and even beyond. It's completely understandable, even though the last thing McCann wanted to do was hit Salazar, he still did. There's no reason for him to feel guilt, but it's only natural. Here's to hoping for a speedy recovery for both Salazar and McCann.
For more baseball news, rumors and analysis, follow @cbssportsmlb on Twitter or subscribe to the RSS feed.