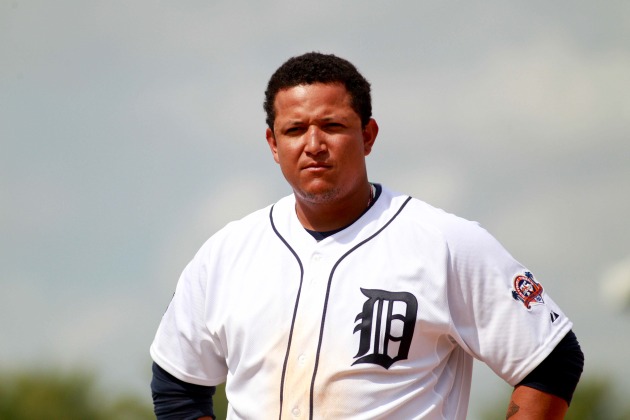 The Florida state attorney's office released on Wednesday a 41-page report dealing with the incident that saw an intoxicated Miguel Cabrera arrested for driving under the influence and resisting an officer on Feb. 16. Also released was a 911 call along with video, with thesmokinggun.com providing the police report.
Previously, all that was known was Cabrera was discovered on the side of the road next to his disabled Range Rover and was belligerent with officers, requiring handcuffs and several "knee strikes" to get the Tigers slugger to comply.
Wednesday, however, it was revealed that the 27-year-old had an incident prior to his arrest, when he turned up at Cowboys Bar-B-Q & Steak Co. in Ft. Pierce around 10:15 p.m. as the restaurant was being closed. The manager, Fletcher Nail was speaking with an off-duty wildlife officer named Kyle Patterson when Cabrera walked in, reeking of alcohol. Nail and Patterson allege that Cabrera pointed to his shoulder bag while saying "I know all of you, and I will kill all of you and blow this place up."
Why he was unhappy exactly is unclear, but when you're as drunk as Cabrera was, anything can set you off, including the news that a restaurant is closing for the night.
Nail finally convinced Cabrera to leave, but not before the first baseman said "you don't know me," leaned near his face and said "I will kill you," patting his shoulder bag again.
Then came the altercation with officers on the side of the road, where Cabrera told police to shoot him and drank in front of the officers. "F---ing shoot me. Kill me," Cabrera is reported to have said, before continuing on. "Do you know who I am?" he asked the officers. "I'm Miguel Cabrera. I play for the Detroit Tigers. You don't know my family."
Just sad news all around to hear more of Cabrera's unfortunate night. He is currently undergoing treatment, and a contrite Cabrera addressed the incident days later. He previously had an incident at the end of the 2009 season when he blew a .26 BAC and got in a fight with his wife, necessitating a 911 call. He later apologized for his actions and by all accounts had successfully managed his alcohol problem... until the fateful night of Feb. 16.
For more baseball news, rumors and analysis, follow @cbssportsmlb on Twitter or subscribe to the RSS feed.