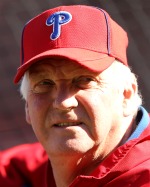 By Evan Burnell
Charlie Manuel has signed a two-year contract extension with the Philadelphia Phillies.
Manuel will earn roughly $7-8 million for 2012-13 and his salary for 2011 has been reworked.
"We've basically torn up that contract and made it a three-year deal," general manager Ruben Amaro told the Associated Press.
Specific figures weren't made public, but it's still a nice bump from the $2.4 million he was set to haul in for 2011 as he sets his sights on returning to the World Series after two straight appearances were derailed by a NLCS exit at the hands of the Giants.
"Between our players and everything in the organization, the things that developed here, I think we have a good thing going," Manuel said, via the AP. "This is definitely the place I wanted to stay. I look forward to getting on down the road and seeing if we can't even get better."
Manuel's 764 career victories -- 220 with the Indians -- place him 74th on the all-time list and ninth among active skippers. Cracking the 800-win barrier this season will be no problem, but trying to leapfrog the Twins' Ron Gardenhire on the active list will take a tall task as Gardenhire is 39 wins ahead of Manuel, with a good team of his own.
Manuel has never had a losing season with the Phillies and joins Bobby Cox as the only managers to win four straight division titles in the National League since the leagues were split into divisions in 1969.
On Phillie manager leaderboards, Manuel is fourth all time in wins, but holds the title of most games over .500 with 116, handedly outdistancing Danny Ozark, whom Manuel will surpass on the overall wins list with his 51st victory of the year. And if Manuel's club can reach 93 victories, which appears likely, he'll vault ahead of Hall of Famer Harry Wright as well. Wright managed the Quakers/Phillies for 10 years from 1884-1893.
After that, the only one left standing will be Gene Mauch, the skipper from 1960-1968 with 645 victories. He, too, could fall if Philadelphia wins 102 games, but more than likely Manuel will have to wait until April 2012 to become the winningest manager in Phillies history.
That's quite an impressive mark for Manuel, who wasn't highly thought-of when he was hired to skipper Philadelphia although he had success in Cleveland from 2000 to mid-2002. But that tends to be the case, as Terry Francona, Joe Torre, and many other successful managers have needed that first managerial gig out of the way.
"He's basically the same guy every day in the clubhouse. Just as an employee, and any employee, you'd like for someone to be the same every day, and to believe in you and kind of have your back. That's the thing Charlie exhibits on a day-to-day basis and I think that's gelled very well with our players. And I think that's worked very well for us," Amaro added.
For more baseball news, rumors and analysis, follow @cbssportsmlb on Twitter or subscribe to the RSS feed.