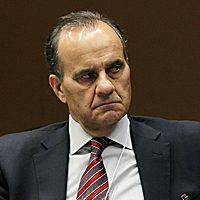 By Matt Snyder
Often maligned himself for being the manager of one of the slowest-playing teams in baseball, Joe Torre is now MLB's executive vice president for baseball operations. His duties are to oversee on-field items, so the pace of play is certainly a huge issue on his plate. Torre spoke with reporters Wednesday and covered this very subject.
"I want to look at it," Torre said. "That's a dirty job for the umpires. In talking to the managers, that's certainly something we've mentioned.

"As managers -- and this only came to me when I was part of the commissioner's committee (for on-field matters) -- we have to do our share. Have the players understand what we're trying to do. We're not trying to change guys' idiosyncracies. But we want at least them aware that it's not a punishment.

"It's just something we're trying to work on. It's a hot button for the commissioner. I don't think there's any question about it. It's a 'feel' thing at this time. I'm not trying to avoid the question. It's more, 'let's look at it.'"
(
via FOXSports.com
)
No word just yet on how many times Torre changed situational relievers during the interview. You know, to make sure each reporter was facing someone with the same strong hand.
For more baseball news, rumors and analysis, follow @cbssportsmlb on Twitter or subscribe to the RSS feed.