By Evan Brunell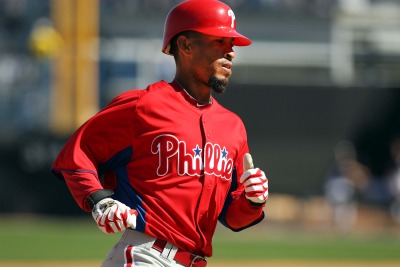 The injury to Chase Utley is certainly damaging. After all, when part of the solution includes Placido Polanco occupying the Nos. 3 or 5 spot in the lineup, you know something's gone very wrong for Philadelphia.
Already tasked with replacing Jayson Werth in the lineup, the Phillies now have to worry about Chase Utley, who is unlikely to start the season as second baseman and could be out for over a month. Surgery is also a possibility. As a result, the Phillies now have to worry about finding a second baseman to replace Utley.
Internally, the choice is clear: Wilson Valdez (pictured). The 32-year-old garnered 363 plate appearances for Philadelphia last season largely thanks to injuries to Jimmy Rollins. He hit .258/.306/.360, which is far from a surprise as he has shown no aptitude to hit. In fact, 2010 was the first time he had significant time in the majors after stints in 2004, 2005, 2007 and 2009 with other clubs. He does boast a solid glove and could be an adequate replacement for Utley for a few weeks.
But if Valdez reaches 300 PA again, the Phillies really will be in trouble. He's simply not a viable long-term replacement, but Philly isn't prepared to look for those solutions just yet. Instead, the club will likely go after another utility infielder to pair with Valdez in being Utley's replacement as CBSSports.com's Danny Knobler reports. This would allow for greater flexibility upon Utley's return.
It's this flexibility and uncertainty surrounding Utley's injury that make an acquisition of a starter like Michael Young unlikely, especially given the Phillies have a very expensive ballclub that can't sustain adding three years and $48 million of Young to. The Rangers have shown no indication that they are willing to eat a large portion of the deal, either. A similar issue confronts the Phillies on going after the Mariners' Chone Figgins as well.
That leaves names such as
Ramon Santiago
, as Knobler suggests. Santiago is in the final year of a two-year, $2.5 million deal and is a capable backup at second and short. He hit .263/.337/.325 in 367 PA and his power has declined sharply over the last two years.
Other options that could fit as a utility player include signing the face of scrappy ballplayers everywhere in David Eckstein or trading for Felipe Lopez. Lopez is currently battling for a backup job in Tampa Bay along with Elliot Johnson. Heck, the Phillies could go after Luis Castillo after the Mets release him, as is expected. Castillo may sound like an odd choice, but all indications are he can still handle the position defensively and would bring a better bat than Valdez to the plate as he can still get on base at a good clip. Helping matters is Castillo would sign for the league minimum after being released, so Philly could cut Castillo without reservations once Utley gets back.
Jeff Keppinger of the Astros was perhaps the best fit as he appears to be the odd man out in Houston, but is sidelined himself for six weeks. If he comes back healthy and Utley is still out for an undetermined time or one-to-two months, Keppinger would be a great fit. He is a tweener type -- best utilized as a great backup on a championship-caliber club but capable of starting in case of injury or on a second-division club.
One thing in Philadelphia's favor is the ability of Placido Polanco to play second base, freeing up the Phillies to go after a third baseman if needed. They'll need that flexibility, as the Padres are chasing a backup as well, MLB.com's Corey Brock reveals. The Padres are concerned about shortstop Jason Bartlett's durability.
For more baseball news, rumors and analysis, follow @cbssportsmlb on Twitter or subscribe to the RSS feed.