By Evan Brunell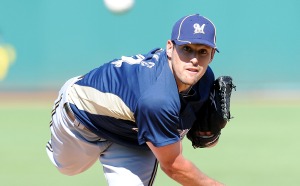 Despite being slowed by shoulder tightness, Brewers manager Ron Roenicke believes Mark Rogers a candidate to replace Zack Greinke in the rotation, the Milwaukee Journal-Sentinel reports.
The right-hander has yet to pitch in a game in spring training, but that could come as soon as this weekend. Rogers was picked with the No. 5 overall pick back in 2005, has been set back by two shoulder surgeries. The first came in January 2007 when he needed his right labrum repaired in the shoulder. A year and a half later, Rogers underwent surgery again to clean up scar tissue. That caused him to miss all of 2007 and 2008, but he returned in 2009 with a sterling campaign, albeit at high-Class A.
Rogers took another step forward in 2010 as a 24-year-old, making 24 starts at Double-A with a 3.71 ERA. He also made one start in Triple-A and then was called up to the majors where he contributed 10 innings, coughing up just two earned runs and three walks against 11 strikeouts. Rogers' injury is still enough of a concern that his future is considered to be a reliever, but it's too early to make that permanent switch, as his talent is still high despite struggling with control as his 5.6 BB/9 mark in the minors last season indicates.
The Brewers have virtually no depth behind the front five for the rotation, partly a casualty of all the money and players invested in Greinke and fellow newcomer Shaun Marcum. Rogers, along with Manny Parra, should be considered the front-runners to replace Greinke. Parra is a failed starter who profiles better in the bullpen, but could be asked to fill in until Greinke returns. Past that, the Brewers could ask 21-year-old Wily Peralta to fill in, but he has just eight starts in Double-A as his highest level reached.
Amaury Rivas is a better bet as the 25-year-old posted a 3.37 ERA in 25 starts for Double-A last season. Still, the choices here are lacking. Milwaukee will certainly be on the prowl for starters that become available later on in spring training, but don't expect a deal for someone like Kevin Slowey. After all, whoever the Brewers acquire will be bumped from the rotation upon Greinke's arrival. That limits the Brewers to internal options who either have options or would move to the bullpen or externally, those Milwaukee wouldn't mind parting with after only a few starts.
For more baseball news, rumors and analysis, follow @cbssportsmlb on Twitter or subscribe to the RSS feed.