By Evan Brunell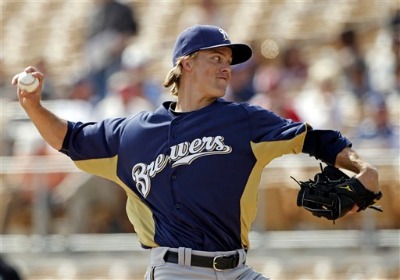 Slated to be the Brewers' Opening Day ace, Zack Greinke will instead miss the beginning of the season after a MRI revealed a bruised rib and hairline fracture, which the right-hander said was suffered while playing basketball.
"I've been [playing basketball] for a couple of years now and people always said, 'You're going to get hurt,'" Greinke told reporters at the Brewers' spring-training complex. "It finally caught up to me, playing basketball. I was going up for a rebound and fell on the side. I was hoping it was just bruised. I had a lot of fun doing it, but it wasn't worth it."
Greinke is expected to miss the first few weeks of the season -- about three starts worth. That's a rather optimistic prognosis, as the bone will take four to six weeks to heal, with two weeks already out of the way. Four weeks from March 8 is April 5, otherwise known as the day before Greinke's slated second start of the year.
Ah, but then factor in needing to build his arm back up and throw some simulated games -- if not rehab starts in the minors -- and Greinke could be out a lot longer. CBSSports.com's Scott Miller pegs a full month of missed time as a realistic target.
"He won't be ready for Opening Day," manager Ron Roenicke said. "How far we go past that, we don't know. He'll have one week with no throwing. Then, they maybe he can play some catch. We want to make sure we get him 100 percent. That's what we're going to do."
Anyone remember how much Jacoby Ellsbury struggled to return from hairline fractures in his ribs? Ellsbury appeared in just six games prior to the injury and then 12 the rest of the way. Even Jeremy Hermida, who suffered a similar injury with Boston but to a lesser extent, missed more time than originally anticipated. Add in how much torque and rotation is heaped upon the upper body of a starting pitcher, and the outlook isn't so rosy for Greinke.
In the righty's favor is that part of the injury is simply a bruised rib, which heals a lot faster than fractures. But even if Greinke has just one hairline fracture, that doesn't mean much. After all, Ellsbury had four hairline fractures while Hermida had five, and he missed 47 total days as compared to Ellsbury's 172 days.
"Until the bone heals, there's nothing you can really do except make it worse," Greinke added. "You've just got to let it heal. I'm just going to try to get back as fast as possible, healthy and ready to pitch."
Greinke got spring training off to a poor start before the injury was discovered. In his first start over 1 2/3 innings, he walked three, then followed it up with five hits allowed in two innings Sunday.
Now, the Brewers will have to scramble to find a replacement with no overwhelming candidates to fill Greinke's spot. The Brewers have a few internal candidates, but Milwaukee may opt to scour the waiver wire later on in spring training in the hopes of finding a capable replacement. Manny Parra has proven his inability to start, while Mark Rogers is unproven and may be a better fit for the bullpen.
For more baseball news, rumors and analysis, follow @cbssportsmlb on Twitter or subscribe to the RSS feed.