By Evan Brunell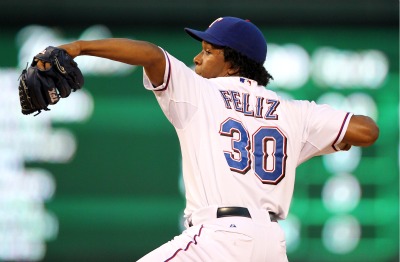 On Wednesday, the Rangers will throw Neftali Feliz into a spring training game expecting three innings out of the hurler. However, Feliz won't be putting in his work at the start of the game as is common for those who aspire to make the starting rotation. Instead, Feliz will be covering the seventh, eighth and ninth innings. Why is that?
"I don't think I have to tell you why we're doing that," manager Ron Washington told MLB.com.
And so comes to a close -- well, almost -- on the experiment to make Feliz (pictured) a starter. While nothing is official, all signs are pointing to the AL Rookie of the Year continuing in the role that saw him nail down 40 saves in Texas' run to the AL pennant last season. While Feliz was open to returning to the rotation, he made clear to team president Nolan Ryan and the media that he was simply more comfortable remaining as closer simply due to his familiarity with the role. While Feliz came up through the minors as a starter, his success at the major league level has been out of the bullpen and he has certainly delivered. But Feliz will continue to pitch multiple innings in spring training to work on his slider and changeup in an attempt to diversify beyond simply a wicked fastball.
"We're going to keep him stretched out so he can use all his pitches," Washington said.
Meanwhile, the absence of Feliz means there are now seven candidates for three spots in the rotation, and that's not even counting the injured Scott Feldman and Brandon Webb. Feldman had surgery in the offseason to repair a microfracture in his right knee but is not expected to be ready to pitch at the major league level until well into May, if not longer. Webb, meanwhile, has a rotation spot waiting for him but the Rangers feel the former Cy Young Award winner won't be ready for Opening Day.
"He's progressing," Washington said. "That's a good step forward. We went from long toss to bullpen to throwing live BP. Depending on how that goes, we'll set a plan from there."
Even if Webb isn't ready when time to line up along the foul lines and be introduced to the crowds, he shouldn't be that far behind, which only puts added pressure on the other candidates to step up their game.
Of the remaining candidates, top prospect Tanner Scheppers (ranked No 77. on CBSSports.com's Top 100 Prospects) profiles as a reliever long-term and is currently battling back stiffness, while Feliz's compatriot in the bullpen, Alexi Ogando, is gamely trying to win a rotation spot but is likely to return to his setup role. Dave Bush, the former Brewer, is in camp hoping for a rotation spot along with prospect Michael Kirkman, a lefty who had 14 relief appearances for Texas last season and could reprise that role in 2011.
Tommy Hunter appears to be the one candidate with the best shot at a gig as he posted a 3.73 ERA (4.70 xFIP) in 128 innings over 22 starts and one appearance out of the bullpen. Hunter also posted similar statistics in his 19-start stint with the Rangers in 2009.
The other favorites are Matt Harrison and Derek Holland. Holland is a former top prospect who has not yet locked down a permanent spot in the rotation but could be the club's best pitcher by year's end. The 24-year-old had a 4.08 ERA (4.40 xFIP) in 10 starts and four relief appearances for the Rangers and also appeared on the postseason roster along with Hunter. The lefty will start Wednesday in Feliz's place.
Harrison, meanwhile, has impressed early in camp. However, his peripherals don't come close to what Holland can put up and the club used him almost exclusively in relief last season with six starts and 31 bullpen appearances.
One has to imagine that Hunter and Holland will occupy the Nos. 3 and 4 spots in the rotation, respectively, with Bush and Harrison battling for the final spot that will eventually be turned over to Webb. There is also thought to be a long-relief spot available which could go to the loser of the rotation sweepstakes.
For more baseball news, rumors and analysis, follow @cbssportsmlb on Twitter or subscribe to the RSS feed.