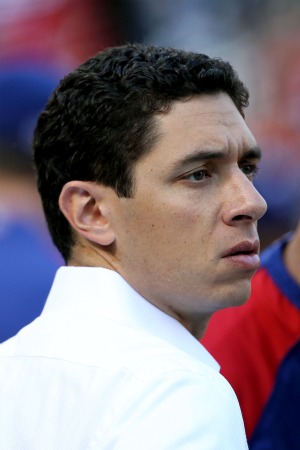 By Evan Brunell
The Rangers have handed GM Jon Daniels a four-year extension, rewarding the 33-year-old for steering the club to its first-ever AL pennant in 2010. For all of Daniels' talents, however, he's made quite a few missteps along the way. Here's a look back at Daniels' three best and worst moves as Rangers GM...
3 UP
1. The Teix Heist
The reason the Rangers made the World Series is thanks to the trade that sent Mark Teixeira to the Atlanta Braves. Consummated at the trade deadline of 2007, this deal represented the first time Daniels was trading away a major piece of a team and he needed to hit a home run.
He did. By dealing Teix and left-handed reliever Ron Mahay, Daniels hauled in catcher Jarrod Saltalamacchia, shortstop Elvis Andrus, pitchers Neftali Feliz, Matt Harrison and Beau Jones. The fact Salty stalled in Texas is concerning, but many viewed the backstop at the time as one of the elite young catchers in the game. Andrus would go on to blossom as Texas' starting shortstop while Feliz won the AL Rookie of the Year Award with 40 saves last season and is currently shifting to the rotation. Harrison is a young lefty who is battling for a rotation spot himself, while Jones is the one non-entity.
This deal will continue to pay dividends over time, as Andrus and Feliz will be in town for years to come while Harrison is valuable depth. Saltalamacchia's career is not yet over as he is slated to start in Boston, and the jury is out on Daniels' return for Salty in three minor leaguers.
2. Game Over
Daniels made another significant trade the day of the 2007 trade deadline when he dealt "Game Over" Eric Gagne and cash to the Red Sox for Kason Gabbard, David Murphy and Engel Beltre.
Gagne was impressive in his first season as an ex-Dodger and after missing the bulk of the 2006 season. He wasn't the lockdown closer of old, but looked as if he could be a quality part of the bullpen. Except as Red Sox fans know, he completely imploded and while he walked away with a World Series trade, he will forever be known as Gag-me in Boston. (For some reason, there are over 11,000 views of a video I took recording Gagne's Red Sox debut.) His saving grace in Boston was as a Type-B free agent, and the Red Sox would later trade the player they drafted with the compensatory pick to Cleveland as part of the Victor Martinez deal.
Meanwhile, David Murphy is one of the more valuable fourth outfielders in the game and would be a starter for many other teams. Beltre has his makeup questions but is developing nicely as Texas' center fielder of the future. Gabbard flamed out, but at the time was a possible back-of-the-rotation starter.
3. Draft Bonanza
A major reason why Daniels has stayed viable as GM of the Rangers is his drafting history. Of course, major credit goes to the people working under him that are in charge of the draft, but Daniels deserves credit for putting these people in those roles as well as having a hand in the drafting and development of these players.
His first draft pick, Kasey Kiker, has yet to develop significantly but is just 22 and does hold some promise. However, his following two have had major league time already: power-hitting Chris Davis who has unfortunately failed time and time again to lock down a starting spot in Texas and Danny Herrera, who is a member of the Reds bullpen currently and was used to get Josh Hamilton. Michael Main was used to get Bengie Molina, while Blake Beavan and Justin Smoak were packaged for Cliff Lee.
Tommy Hunter was a viable member of the rotation last season and could have a nice career as a back-of-the-rotation pitcher, while Julio Borbon is prepared to start in center field. Tanner Scheppers ranked No. 77 on CBSSports.com's Top 100 Prospects and may have ranked higher if he was clearly going to be a starter. The club also came away with an impressive haul in the 2010 draft.
Honorable Mention: One would expect the deal bringing in Josh Hamilton to be one of Daniels' better deals, but it's hard to justify that as one of his best deals simply by virtue of giving up Edinson Volquez. There's no denying Hamilton's talent -- after all, he won the AL MVP award -- but Volquez has turned out pretty well for himself. There's a similar case to be made for the trade that imported Carlos Lee and Nelson Cruz from Milwaukee in exchange for Laynce Nix, Kevin Mench, Francisco Cordero and Juan Cordero, so the honorable mention goes to signing Colby Lewis to a two-year deal prior to the 2010 season. Lewis was an utter failure stateside before heading to Japan and discovering his talent. Daniels didn't hesitate to bring in Lewis, and all he did was become the Rangers' best right-handed starter in the team's run to the AL pennant.
3 DOWN
1. The Young and Heartless
In March of 2007, Daniels signed shortstop Michael Young to a five-year, $80 million extension, a contract that was strange at the time and now has snowballed. Two seasons later, Daniels bumped Young to third base in a contentious move to free up short for Elvis Andrus. Young's bat has continued to be solid, but he remained a defensive liability at third and in a much-publicized spat, is now headed to DH and first base after demanding a trade. However, thanks to Young's contract, it will be difficult to move him.
Daniels certainly shouldn't have signed Young to this deal, but that's not why this ranks as one of his three worst moves as GM. While there's a lot of "he-said, he-said" going on by both sides, the fact remains that Young is not very keen on speaking to Daniels and feels "misled." Whether or not you believe Daniels or Young (or think the true answer is somewhere in-between), Daniels should have done a far better job managing the crisis as this has become a nightmare, both in terms of Young's trade value and in public relations. Heck, it even made a three-year-old kid very upset.
2. A-Gone
It's hard to fault Jon Daniels for trading away Adrian Gonzalez as he needed pitching and had Mark Teixeira at first. But goodness, couldn't he have done better? In his second significant trade of his GM career -- the first was also pretty bad -- Daniels shipped away someone who would become one of the best first-basemen in the game in short order in Gonzalez to the Padres along with Chris Young, who fashioned a nice run for himself in the rotation for San Diego. Terrmel Sledge was a throw-in to get Adam Eaton, Akinori Otsuka and Billy Killian in return.
Eaton was a disaster, making just 13 starts and moving onto the Phillies where he was even worse, while Otsuka became the Rangers' closer but fell to injury in 2007 at age 35 and has not returned to the majors since. Killian is now in independent baseball.
Hey, every GM has trades they regret. It's part of life. But this is one regrettable trade that makes one really cringe looking back on it.
3. A-Rod to Soriano to Nothing
OK, so Daniels wasn't responsible for the initial trade of Alex Rodriguez, but he certainly was responsible for turning Rodriguez's return in Alfonso Soriano into something. Unfortunately, his first major trade was a flop when he shipped Soriano to the Washington Nationals for Brad Wilkerson, Armando Galarraga and Terrmel Sledge. Sledge would be shipped in another terrible deal a month later in the Adrian Gonzalez deal, while Wilkerson couldn't arrest the decline he began in his final season for the Nats in '06. He did not top 350 at-bats in the two seasons he was a Ranger.
While Galarraga was and still is nothing to write home about, he chewed up almost 500 innings for the Tigers after the Rangers essentially gave him away, predominantly as a starter the last three seasons -- and of course, as the architect of the 28-out perfect game. He is now a Diamondback and expected to serve in the back of the rotation. These types of pitchers are far from sexy and you can't blame Daniels for tossing Galarraga in the deal, but it only serves to make this deal look even worse given he got absolutely nothing of value for Soriano, which in turn meant the team got nothing for A-Rod.
In Daniels' defense, he was handicapped by Soriano entering the final year of his deal, but Daniels should have looked for prospects in any deal, not an outfielder on the decline, a pitcher he would give away a couple years later and a bit piece that would go on to become part of Daniels' worst trade to date.
Dishonorable Mention: Not to pile on Daniels, who has turned into a very fine GM, but just like he has plenty of candidates for honorable mention, he has candidates for this category as well. Signing Kevin Millwood to a five-year, $60 million deal was head-scratching at the time and he stumbled badly on December 23, 2006 when he dealt away John Danks, Nick Masset and Jacob Rasner to the White Sox for Brandon McCarthy and David Paisano. Danks and McCarthy were two highly-regarded prospects at the time, but Danks is the one that blossomed, while Masset would go on to bust out himself as an important part of the Reds bullpen.
For more baseball news, rumors and analysis, follow @cbssportsmlb on Twitter or subscribe to the RSS feed.