By C. Trent Rosecrans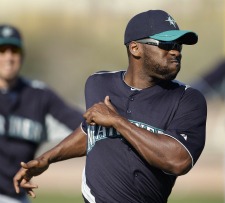 Mariners outfielder Milton Bradley has been accused of hitting his wife with the top of a glass coffee table, according to court documents obtained by RadarOnline.com.
Milton's wife, Monique, is seeking a divorce. She requested a restraining order on January 24. The two already have a March 9 scheduled hearing in Los Angeles Attorney's office for making threats against his wife in January. It's unclear if this is related to that incident.
From the report:
"The glass shattered on my head and I started to bleed. As soon as Milton saw me bleeding, he started crying and begging me to forgive him. He stated that he lost it and that he would kill himself if I left him. I did not know what to do."
The incident happened at a hotel in New York when the couple was in town for New Year's Eve. She also says hotel security came to the door, but Milton Bradley said there was no problem. Monique didn't go to the hospital for the incident.
Bradley actually filed for divorce in January of 2006, but never finalized the divorce.
Bradley is off to a hot start for the Mariners this spring, going 5 for 8 with two doubles and three RBI.
For more baseball news, rumors and analysis, follow @cbssportsmlb on Twitter or subscribe to the RSS feed.