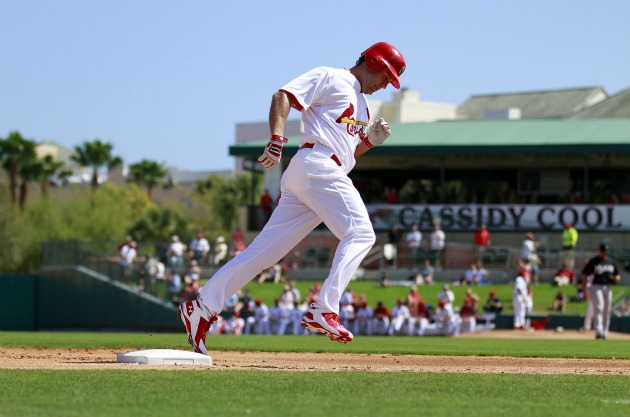 By C. Trent Rosecrans
The Cardinals came out of the offseason sacrificing defense for offense, but that offense may have a hard time even getting on the field.
Lance Berkman, inked in as the team's right fielder going into the spring, was scratched from the team's lineup on Thursday because of a sore left calf. Berkman had already been limited to designated hitter work because of a bad left elbow.
It's just the first week of games, and Berkman has been limited to play in the field. On Thursday, Berkman told the St. Louis Post-Dispatch he was "perfectly fine" and would still go to Kissimmee, Fla., on Friday to face his old team, the Astros.
Friday morning, Berkman wasn't on the bus, missing another game.
Prospect Zack Cox filled in for Berkman at DH on Thursday and knocked in a run, but he's not ready to fill in full-time for Berkman in the field and the National League doesn't have the DH.
Sure, it's early, and several players are battling bumps and bruises, but not all of them are 35, coming off a down season, moving to a more demanding physical position, blocked at their old position and being counted on to remedy a team's offense. That's a lot on the shoulders of the Big Puma, and it's looking less like he can shoulder that load.
WAKE-UP: As if stepping into the box against a guy who can sling the ball 105 mph wasn't enough to get your attention, the first pitch ending up somewhere near the bull certainly got Dodger Trent Oeltjen's attention. Thursday night, the first pitch of Chapman's inning of work went over the catcher's mitt and over the umpire's head. His next three pitches to Oeltjen were strikes, including strike three looking.
"If it was at my face, I wouldn't have had time to move," Oeltjen told the Los Angeles Times' Dylan Hernandez. "It woke me up. He sent a message he was throwing hard."
Said new manager Don Mattingly: "Jeez, huh? He was Randy Johnson-ish. It gets there quick, doesn't it?"
GOOD NEWS, BAD NEWS: Carlos Zambrano didn't fight anyone in his Thursday start for the Cubs -- not only that, he threw three scoreless innings. However, he did complain of arm fatigue after the start.
"I was just tired," Zambrano said to the Chicago Sun-Times. "It's normal. I wasn't feeling power in my arm, but I guarantee you I will work hard and feel good in my next start."
Zambrano note he typically feels a "dead-arm" at least once a spring.
JUST BAD NEWS: Yesterday the question was if Astros' catcher Jason Castro would miss the beginning of the season. Today, it's if he'll play at all this season.
Thursday night, Castro was diagnosed with a torn anterior cruciate ligament in his right knee. Castro was scheduled to have surgery this morning, and general manager Ed Wade said he could return "by mid-September." (Houston Chronicle)
WAIT FOR JUDGEMENT? Matt Cain said he hasn't thrown a ball since coming down with elbow inflammation on Sunday and will likely miss multiple starts this spring.
However, Cain's not too concerned, even after taking an MRI.
There is a history -- and this is something to watch -- of pitchers going to the postseason one season and having trouble the next because of the increased workload. While Cain's not worried, it'll be something to monitor with all of the Giants' pitching staff. (San Francisco Chronicle)
ANOTHER WART: Hopefully Orioles starter Brian Matusz won't tweet a picture like Michael Cuddyer, but he'll also be having a wart professionally removed.
Matusz's wart is on the middle finger of his pitching hand. Still, he threw two scoreless innings on Wednesday even with the wart. He had it some last year, but pitched through it. He said it bothers him some on his breaking ball. (Baltimore Sun)
WAS THAT REALLY A CONSIDERATION? Oliver Perez has been the New York media's favorite target for a while, but is this really necessary? The New Your Daily News' "breaking news" from "a source" is that the Mets have internally decided Perez will not be a starter during the regular season.
The Daily News' Andy Martino wrote that the day after he wrote the team would cut Perez (and his $12 million salary) if he didn't perform well in his start on Thursday. Well, he threw two scoreless innings against the Cardinals, so Martino didn't get his wish. Instead, he had to find a new way to pile onto Perez.
Hey, it's not to say Perez doesn't stink. He does. Or that he's not overpaid -- he is. It's just, this breathless reporting seems almost like piling on. Sure, the Mets have said he's in contention for the rotation, but the Mets say a lot of things, and it's not like we believe those.
NOW HE COULD BE IN A ROTATION: Neftali Feliz wasn't too happy with his first start of spring. Still, he threw two scoreless innings, so it wasn't bad. He also threw three different pitches, but struggled with his command and rhythm.
The Feliz story may be one of the more interesting ones of spring, and certainly something to watch as the month goes along. He'll throw three innings next week. (Fort Worth Star-Telegram)
VISA TIME: Edinson Volquez, Cincinnati's opening-day starter, could pitch his first spring training start because of a visa problem, but he should be able to make his next start after a quick trip to his native Dominican Republic.
"Everything is set," he told the Cincinnati Enquirer's John Fay. "They're just waiting for me to pitch it up."
He was unable to pitch in games at which admission is charged because he came to camp on a travel visa, not a work visa. His work visa was held up because of his failed drug test and suspension last season.
COCO CONTRITE: A's outfielder Coco Crisp said he's embarrassed about his DUI arrest on Wednesday morning. (San Francisco Chronicle)
GO METS OR GO HOME: Former Cardinals and A's closer Jason Isringhausen is back in camp for the Mets, after starting a comeback last season in the Reds system.
Isringhausen played in Triple-A last season, but says his bus-riding days are over. If he doesn't break camp with the Mets, he'll just go home and call it a career. (St. Louis Post-Dispatch)
OR JUST GO HOME: Boston's J.D. Drew says he's considering retiring after this year. It's been one of those things he's hinted at before and is hardly a surprise. (Boston Herald)
SO WHO IS A-ROD? According to Wikileaks, a U.S. diplomatic cable on the 2009 Iranian election called President Mahmoud Ahmadinejad the "George Steinbrenner of Iran" when talking about his influence over the national soccer team.
I'm guessing that wasn't a compliment. (Associated Press)
WHAT'S A WORLD SERIES WORTH? How much are World Series starts worth to a Hall of Fame discussion? Or, even more words about Jack Morris from Baseball Prospectus.
Honestly, I used to be a Morris for the Hall guy, I'm not anymore. I used to not be a Bert Blyleven guy, but I am now. But I'll certainly never change my feeling that I never want to hear another Morris-Blyleven debate.
A BETTER SCORECARD: An interview with Bethany Heck, the designer of a new, better, scorebook. Heck's 20-game scorebook is like "if Moleskine made a scorebook…" (Bugs & Cranks)
WHAT TO WATCH: Jake Peavy will make his first start since July 6 today against the Angels in Tempe, Ariz.
"Hopefully, we'll see some of the hard work we've done pay off," he told the Chicago Tribune.
QUARTERBACK SHOWDOWN: There's a Groundhog Day aspect to spring training, so Padres manager Bud Black found a way to break up the monotony -- a quarterback combine.
While Cam Newton and Blaine Gabbert (seriously, could you draft a quarterback named "Blaine") did this in Indianapolis last week, Black had his former quarterbacks -- top prospect Casey Kelly, Cory Luebke, Orlando Hudson and Nick Hundley -- go through their own competition Thursday morning.
According to MLB.com's Corey Brock, the three went through several drills, including hitting a moving target. Luebke, a high school quarterback in Ohio, upset Kelly, who signed a letter of intent to play QB at Tennessee.
"We're here for six weeks," Black said. "… We try to do some things to keep the guys going."
MARK YOUR CALENDAR: The Reds have announced the front-runner for the year's best bobblehead. On July 2 against the Indians, fans will receive the combination Dusty Baker bobblehead and toothpick holder. The bobblehead even has Dusty with a toothpick in his mouth (and, of course, sweatbands on his arms). So far, it's the best bobblehead I've seen on tap for this year, with the Reds also getting second place for their Jonny Gomes bobblehead and arm, mimicking the way Gomes tugs at his helmet before every at-bat.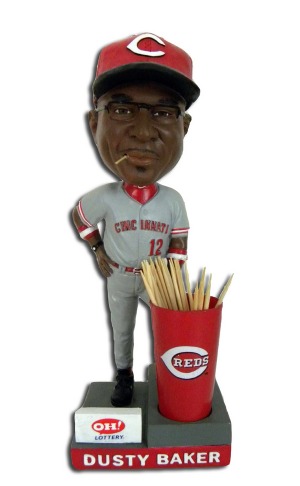 IF YOU'RE NOT ALREADY BEARDED OUT: The literary journal McSweeney's is selling a "How to Beard Yourself Like Brian Wilson" poster.
For more baseball news, rumors and analysis, follow @cbssportsmlb on Twitter or subscribe to the RSS feed.