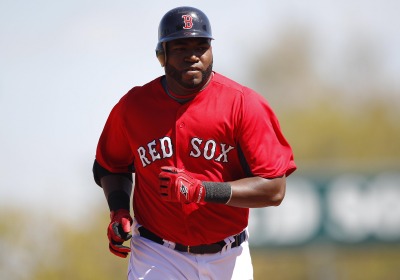 By Evan Brunell
David Ortiz believes that clearing his mind will go a long way towards helping him produce at the plate.
"I haven't felt like this for a while," Ortiz told WEEI.com of how well he has been feeling, which he believes is a major part of his fast start in spring training with a 5 for 8 beginning. "There were a lot of things that I had to correct, and I did in the offseason."
Ortiz said what he had to correct was not related to baseball, but was important in the sense that "when you're playing baseball you can't be thinking about some other things. Baseball is a very complicated business so you have to make sure your mind is clear so you can think about what you're doing."
Ortiz wouldn't clarify what he needed to fix, but said he feels people don't realize players have lives outside of baseball. "That life needs to be taken care of. You have family, you have kids, you have friends. A lot of stuff. In a situation like ours sometimes you don't pay attention to little things and they accumulate slowly. ... You've been accumulating things for years and then next thing you know you've got all that on top of you. Then people look at you and it seems you have a big old monkey on your back. Not anymore."
This is certainly true of Ortiz's recent years in Boston, where the usually gregarious slugger has seemed to withdraw in his shell over the last two years. Certainly, a big part of it has to do with how Ortiz struggled with criticism after getting off to slow starts each of the past two years. But perhaps a big amount had to do with off-the-field stuff, and Big Papi can already notice a difference.
"I can enjoy baseball now. What a difference," he said. "I don't even have my cell phone with me. That's your No. 1 enemy, your cell phone."
For all the improvement Ortiz seems to have made in this area, his personal life isn't entirely cleared of conflicts. He is headed to court after locking horns with hip-hop singer Jay-Z on a naming issue as the New York Post reports. Ortiz has a nightclub in the Dominican Republic named Forty Forty, and Jay-Z has taken umbrage to that, believing it a ripoff of his own 40/40 Club.
The two sides met for three hours Monday but could not come to an agreement as Ortiz's business manager, Mark Walker, said Jay-Z wants "way too much" compensation. Ortiz had previously indicated a willingness to change the name or settle the dispute.
For more baseball news, rumors and analysis, follow @cbssportsmlb on Twitter or subscribe to the RSS feed.