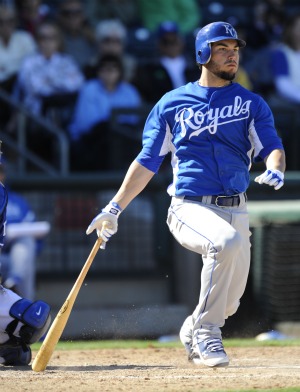 By Evan Brunell
The Kansas City Royals are flush with prospects, giving pained K.C. fans hope after the major league club flailed in recent years. While these prospects aren't quite ready for prime time, the first influx should start arriving in the summer and continue through 2012.
On CBSSports.com's Top 100 prospects list, the Royals walked away with a staggering 10 names, far ahead of Atlanta, Tampa Bay and Toronto, which tied for second with six representatives apiece.
In order, the Royals players that are among the 100 best are 1B Eric Hosmer (No. 5), 3B Mike Moustakas (No. 10), RF Wil Myers (No. 11), SP Mike Montgomery (No. 22), SP John Lamb (No. 28), SP Jake Odorizzi (No. 76), SP Danny Duffy (No. 79), SS Christian Colon (No. 84), SP Chris Dwyer (No. 98) and RP Jeremy Jeffress (No. 99).
Sheesh, that's a lot -- and that's not all, as Baseball America ranked right-hander Aaron Crow No. 9 and outfielder Brett Eibner No. 10 on the top 10 organizational prospects list. This was prior to the trade with Milwaukee that netted Odorizzi and Jeffress, but Crow and Eibner are no slouches either.
Once all these prospects hit, the Royals will be flush in elite talent making minimal dollars, so the Royals should be a force in short order. While other AL Central foes are in no hurry to see what K.C. can do, let's take a look at what the club could look like in several years. The only players included on this list are current members of the team, those that appeared on top 10 organizational lists by varied sources or are highly regarded but are unlucky enough to play in a system so stacked they don't fall on a top 10 list although they could in other organizations.
Here's a full 25-man projection:
C Salvador Perez
1B Eric Hosmer (pictured)
2B Christian Colon
3B Mike Moustakas
SS Alcides Escobar
LF Brett Eibner
CF Lorenzo Cain
RF Wil Myers
DH Billy Butler
Bench 1B: Clint Robinson
Bench IF: Johnny Giovatella
Bench IF: Jeff Bianchi
Bench OF: Jarrod Dyson
Bench OF: David Lough
SP Mike Montgomery
SP John Lamb
SP Jake Odorizzi
SP Danny Duffy
SP Chris Dwyer
RHRP Patrick Keatging
RHRP Luis Coleman
LHRP Tim Collins
RHRP Aaron Crow
RHRP Jeremy Jeffress
RH CL Joakim Soria
This potential roster doesn't even list a backup catcher, but it's pretty obvious that K.C. is absolutely stacked with talent -- especially since pitcher Noel Arguelles and others aren't even listed! (Note that Colon is a shortstop but is slotted at second here although questions remain about his ability to play second long-term. He may yet remain at short if Escobar does not pan out.)
Despite the impressive depth, keep in mind not every prospect pans out. Still, the Royals have quite a fair amount of assets at their disposal, as each name above is expected to at the very least debut in the majors at some point.
One gaping hole that appears here, however, is at catcher. Currently, the team is getting by with Jason Kendall, Brayan Pena and Lucas May, although only May figures to still be with the Royals when the full influx of prospects arrive. Salvador Perez is listed by BA as the projected catcher for 2014, which is why he is here. He is reportedly a gifted catcher with limited offensive potential, but who needs a bat behind the dish when you have a lineup like what K.C. projects to have?
That said, the massive amounts of trade chips the Royals have plus the oodles of money that will be at its disposal should import several other impact players into the team. This is a club positioned for one heck of a run in the middle part of the decade.
For more baseball news, rumors and analysis, follow @cbssportsmlb on Twitter or subscribe to the RSS feed.