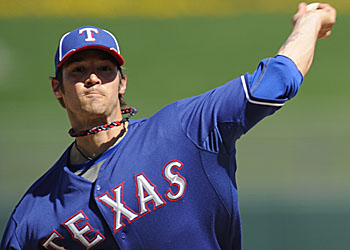 Posted by Matt Snyder
The Texas
Rangers
won the American League pennant last season, yet on March 1, they have just two official members of their starting pitching staff.
C.J. Wilson
-- who one year ago was trying to convince his bosses he could start -- is the opening day starter.
Colby Lewis
-- who one year ago was returning to stateside from Japan -- is the number two.
Funny thing is, the Rangers could actually end up having a pretty solid rotation. There is a void at the top, sure. Wilson and Lewis seem more like middle-of-the-rotation guys at this point, which is why the team was ready to pay quite a bit to retain the services of
Cliff Lee
.
Obviously the team would be better off at present with Lee, but there's potential left on this staff.
Let's make an at least mildly realistic argument everything is going to come together, just to see how things could shake out -- meaning we aren't going to say
Brandon Webb
immediately returns to Cy Young form, but we will assume a lot of "ifs" pan out positively.
Wilson had a rough September, but you could argue he was just tiring. It was his first season in the bigs as a starting pitcher. He exceeded 200 innings after never having thrown more than 73 2/3 in a major league season. The last time he topped 100 innings in a professional season was 2005 (48 in the majors, 58 1/3 in the minors). Before September, he was 14-5 with a 2.88 ERA. Control was an issue all season and his 4.1 BB/9 was exactly the same as his career mark. However, getting his command in order is his top priority this spring. There's no pressure to make the rotation and, already being the opening day starter, he need not worry about anything else.
Lewis was a bit inconsistent, but finished real strong. He closed 3-1 with a 2.37 ERA in his last five starts. He carried that over into the playoffs by going 3-0 with a 1.71 ERA in four starts. This included dominating the
Yankees
twice. If he carries this over into 2011, he'll be a very capable second starter.
In the two, the Rangers have a pair of 200-inning guys with postseason experience, though neither is old.
Next, you have Webb. He hasn't thrown a major league pitch in almost two calendar years, but he was the best pitcher in the national league from 2006-2008, winning a Cy Young and finishing second the other two years. He has been building up arm strength without a setback so far this spring. He finally got on the mound and threw some pitches recently. It does appear he'll be an
in-season addition
to the rotation (via FOX Sports), rather than an opening day member, but that's OK. The Rangers are being realistic with him. By the end of the year, who's to say he can't be back to a quality major-league starter, even if he'll never be an ace again.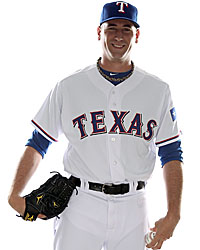 Now, a sleeper:
Michael Kirkman
. The 24-year-old left-hander sparkled in his stint for the Rangers last season, to the tune of a 1.65 ERA in 14 major-league appearances out of the bullpen. He accrued some postseason experience, too, though he was slightly touched up in one of his three outings. As a starter in triple-A last season, Kirkman was 13-3 with a 3.09 ERA -- which, in the Pacific Coast League, is quite the feat. He struck out 130 hitters in 131 innings and won the PCL pitcher of the year award. Pitching coach Mike Maddux sang Kirkman's praises on XM Radio Monday morning and Rangers brass seem to be
favoring him for a spot
at this point (
Star-Telegram
).
Then the Rangers have
Matt Harrison
,
Derek Holland
and
Tommy Hunter
.
Harrison's fallen off in recent years without consistent starts, but he was once a solid prospect and is still only 25. With this group it's doubtful there will be room for him, but you never know.
Holland, 24, is a former top-35 prospect. He battled injury issues last season, but is healthy now. He was lights-out in triple-A last season, going 6-2 with a 1.87 ERA and 1.09 WHIP. He looked good in the ALCS against the Yankees (0 ER in 5 2/3 innings). Further development this season could see Holland as a breakout starter.
Hunter has an ERA-plus of 115 over the past two seasons, which include 41 starts. He went 13-4 last season. He's only 24.
One of these guys could end up being the fifth-best starter for the Rangers come August, with the other two left out in the cold -- and we haven't even mentioned
Neftali Feliz
. Few pitchers in the league have a better arm than the 22-year-old fireballer. He was an All-Star and won Rookie of the Year last season as a closer, but the Rangers see him as a starter in the future. Is the future, here, April of 2011? It's possible. He's in the fight to make the rotation as of Tuesday.
What if the Rangers plug him in as a five? And then Wilson, Lewis, Webb, Kirkman and Feliz all pitch to their ceiling in 2011? Even if Feliz remains at closer -- which seems likely here -- either Holland or Hunter can easily be seen as a fine fifth rotation member.
So is the rotation of the Rangers really an issue? Did they
really
need to try and match the
Phillies
or Yankees for Cliff Lee?
Time will tell, but it's certainly not a lost cause in Texas. Not by any stretch. The uncertainty with the rotation could actually end up being an embarrassment of riches.
For more baseball news, rumors and analysis, follow @cbssportsmlb on Twitter or subscribe to the RSS feed.