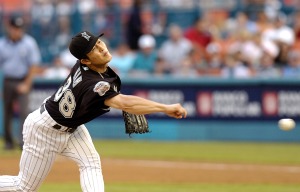 Could the closer by committee be making a comeback?
Everyone remembers the last time a team attempted a closer by committee, to the scorn of many fans and pundits. And indeed, the attempt failed miserably by Boston back in 2003, necessitating a trade for the Diamondbacks' Byung-Hyun Kim (pictured) in May.
The problem back then was that the personnel wasn't right for Boston and the public tide of opinion was against having a closer by committee even as Boston's true intention was to deploy a closer, just as a relief ace instead. After all, don't you want your best relief pitcher pitching in the most important part of the game if it's earlier than the ninth? Jonathan Papelbon can make a bigger difference getting out of a bases-loaded jam in the eighth than nailing down three outs in the ninth on a three-run lead.
Indeed, Boston would later sign Keith Foulke to close and deploy him as a relief ace in the 2004 run to the World Series. The Red Sox also developed Daniel Bard, who functioned as a relief ace in 2010. Skipper Terry Francona has talked often about how he loves having Bard to deploy where the team needs, not where the label of closer dictates.
But since Boston's aborted 2003 effort, closers by committees have existed only in lieu of a closer that has gotten injured.
But the concept may come roaring back in 2011, as two teams appear to be readying for a closer by committee.
The Rays have had to completely revamp their bullpen, and one byproduct of this is no clear-cut closer. Kyle Farnsworth is probably the pitcher with the best shot at emerging as closer given his longevity and pedigree. But even his closer's record is spotty as he has just 27 career saves (the most on the Rays, with J.P. Howell second at 20). Farnsworth, however, has only one save since 2006. Howell or rookie lefty Jake McGee seem likely to emerge as long-term closer, but for now, Tampa doesn't have much of a choice.
"We have some really good candidates," skipper Joe Maddon told the St. Petersburg Times. "Some good arms, some guys I don't really know that well that we've got to check out and see what they're capable of doing."
But even Maddon -- the king of innovation these days in baseball, sounded skeptical of the closer-by-committee approach.
"I have to prepare myself mentally for that because it's really different," Maddon said. "To have the one guy at the end of the game allows you to do certain things to get to the ninth innings whereas when you don't, there's different things you have to consider all the time. So it's quite a mental exercise."
Another team following in Tampa's footsteps are the Braves, who may split closer duties between Craig Kimbrel and Johnny Venters, as the Atlanta Journal-Constitution writes. New manager Fredi Gonzalez pointed to the Mike Gonzalez/Rafael Soriano arrangement the Braves went through in 2009 as an example for Kimbrel and Venters.
However, while both duos share a similar handedness split (Gonzalez and Venters as lefties, Soriano and Kimbrel righties), the 2009 comparison leaves out one important distinction: the Gonzalez/Soriano tandem was over by the All-Star Break. In the first half, Gonzalez nailed down nine saves, Soriano 12. But after the first half, Gonzalez got just one save while Soriano would go on to notch 15. Granted, the same thing could happen again in Atlanta if a clear-cut closer emerges for Gonzalez.
Closers are increasingly being marginalized as teams are no longer willing to pay exorbitant amounts in free agency. Even Rafael Soriano got less than he was hoping for, and despite his massive three-year, $36 million commitment, is no more outrageous than Joaquin Benoit's three-year, $18.5 million deal. Along with the pullback in closer salaries is coming increased understanding of the volatility of closers. Perhaps one day, relief aces will supplant closers. Until then, however, each closer-by-committee situation figures to be hotly monitored and debated. How Atlanta and Tampa approach and fare in this regard will impact the future of bullpen philosophy, just like teams re-entrenched themselves with closers after Boston's failed gambit.
-- Evan Brunell
For more baseball news, rumors and analysis, follow @cbssportsmlb on Twitter or subscribe to the RSS feed.