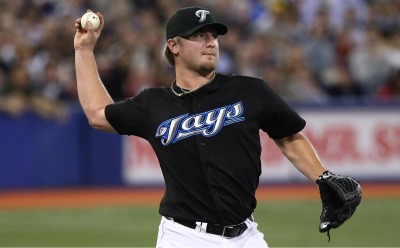 In the last two years, the Blue Jays have traded away their Opening Day starters, leaving a void at the top of the rotation.
Or is there one?
Yes, there's no Roy Halladay or Shaun Marcum any longer, but Toronto still has plenty of young starters. Last season, the rotation was anchored by Marcum, Ricky Romero, Brett Cecil and Brandon Morrow. All three remaining starters are also the only ones guaranteed rotation spots for 2011 as FOX Sports reports.
The final two spots will be battled out by Kyle Drabek, Jesse Litsch, Jo-Jo Reyes, Scott Richmond and Marc Rzepczynski.
While Litsch will be 25 before Opening Day, he also hasn't seen extensive playing time in the majors over the last two seasons thanks to injuries. When he's right, he would be perfect in the back of the rotation. Meanwhile, Reyes is unlikely to get a shot after failing in Atlanta and making just two starts for Toronto after being traded along with Yunel Escobar. Richmond is a former independent baseball player who received 24 starts in 2009 -- but posted a 5.54 ERA. He spent 2010 in the minors when he wasn't hurt. Rzepczynski, meanwhile, has the most major-league experience over the last two years, posting a 4.32 ERA (4.95 in 2010) across 23 career starts.
That leaves Drabek, who is likely the leader for the No. 4 spot, allowing Litsch and Rzepczynski to battle it out for No. 5.
Drabek, part of the Halladay return, made his debut last season at age 22 and made three starts, walking five, striking out 12 and giving up nine earned runs. He pitched a total of 179 innings across the minors and majors, and it's not entirely far-fetched to think he could contribute 200 innings to Toronto.
"You can look at the [innings] progression he's already gone through to this point," new manager John Farrell said. "What it'll come down to now is his efficiency in games. When you look at the competitive nature of the person, and you know that the talent and personal side align, this is a very exciting and bright young prospect.
"You're talking about someone who loves to compete and doesn't back away from challenges. That's his wiring and his makeup."
While Drabek has proven he can handle a big workload and appears to be the best pitcher of the remaining crew left contending for a rotation spot, the Jays may want to rethink giving him 32 starts over a full season. After all, the depth is there and while Toronto would love to match or exceed its 2010 wins total of 85, it can't come at the expense of a young starter who could anchor the rotation for years to come.
Not only that, but one major league inning is far different than one minor league inning. Up in the majors, you're facing people up and down the lineup that would be in the top five spots of any Triple-A lineup, with the competition and expectations that much higher. These innings at the big league level require more effort, just like 80 pitches on a hot, humid day in a slugfest can be tougher than 100 on a cool, crisp day where both sides are mowing down batters.
And again, this is a young pitcher. Does Toronto really want to risk derailing him for life just to get 200 innings in his rookie year of a division in where it is very unlikely the Jays make the postseason?
If Toronto decides to carry Drabek on the Opening Day roster, they should shoot for no more than 180 innings from the right-hander. If everything goes right for Drabek, that may mean skipping a few starts down the stretch, but at that point the Jays will probably be out of the postseason race, so it wouldn't matter.
Finances also come into play. By demoting Drabek to start the year, they can hold him out until June or July and then bring him up and guarantee an extra year of team control. That's a slippery slope for a team looking to stay relevant in the AL East, however -- especially since the team's shedding of Alex Rios and Vernon Wells have cleared up tons of dollars.
-- Evan Brunell
For more baseball news, rumors and analysis, follow @cbssportsmlb on Twitter or subscribe to the RSS feed.