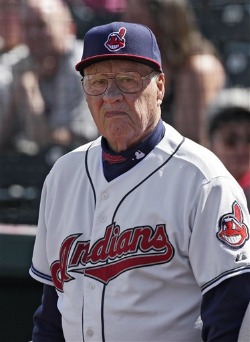 Bob Feller has passed due to acute leukemia, leaving baseball without one of the best pitchers of the middle-20th century, Keith Murphy of WHO TV in Des Moines reports.
The confirmed passing of Feller occurred at 9:15 p.m. EST in a hospice.
The right-hander had a career that saw him win 266 games with a 3.25 ERA -- and that's with a three-year interruption from ages 23-25 due to war. Imagine what Feller could have done with those three years (plus a full season in 1945, when he made only nine starts). Given Feller won 24, 27 and 25 games prior to his departure and then 26 and 20 his two full years back, he would have had at least 20 wins per year, right? Give him 75 more wins (given he won five in 1945's nine starts) and you're looking at someone with at least 341.
At least. Hard to imagine he doesn't end up with at least 350. This was a man who was one of the best right-handed pitchers in the game, and has a case to be top five all-time.
Feller was an ironman, leading baseball five times in innings pitched from 1939-1941 and 1946-47. His six-year span (including those nine starts in 1945) gave him a 2.68 ERA in 200 starts (with another 25 out of the bullpen) with 1,370 strikeouts and an ERA+ of 144, meaning he was 44 percent above average. Heck, he even added 14 saves to those totals.
Feller led baseball in punchouts seven times, with his career high as 348 in 371 1/3 innings for the 1946
Indians
. Feller was part of the 1948 squad that won a World Series, which remains the last time the tortured souls in Ohio have won it all. He would also go on to be a member of the AL pennant-winning 1954 squad and played 18 seasons overall, all with Cleveland.
The Iowa native's career 2,581 strikeouts places him 26th on the all-time list. His career Wins Above Replacement is 66, placing him 19th on the right-handed pitchers list of those with at least 2,000 innings pitched. For comparison, Curt Schilling barely beats him out.
But there's a reason Feller is in the Hall and Schilling figures to have an uphill battle: Feller's missed seasons due to war. WAR (no pun intended) is cumulative, so if you assume at least a 7 WAR (like the wins, this is conservative) for each of the missed seasons, Feller rises to top-five territory in the company of Phil Niekro and Greg Maddux.
Feller was so well regarded that he was inducted into the Hall of Fame with 93.3 percent of the vote in his first-year of eligibility. Nicknamed Bullet Bob and Rapid Robert, Feller had held the title of longest-tenured living Hall of Famer prior to his death.
Oh, and about that military service? Feller was the first MLB player to volunteer for service immediately after the Pearl Harbor bombing and served aboard the
USS Alabama
, earning eight battle stars, and Feller is the only Chief Petty Officer in the Baseball Hall of Fame.
Feller's claim to fame comes from his heater, which was one of the best in the history of the game at that point. In fact, a school of thought believes that Feller threw harder than Nolan Ryan, which is hard to believe. There is evidence that Feller threw 98.6 mph at the tail-end of his career, although the velocity was clocked as passing the plate, not coming out of his hand as common measurements do so. He is the owner of the second-fastest pitch recorded at 107.6 mph in 1946. Nolan Ryan was measured at 108.1 in 1974.
The wins... the WAR... the innings pitched... the time away defending the country... the strikeouts... all show that Bob Feller belongs in the conversation for best right-handed starter ever.
Baseball has lost a legend. Condolences to his family and friends.
-- Evan Brunell
For more baseball news, rumors and analysis, follow @cbssportsmlb on Twitter or subscribe to the RSS feed.