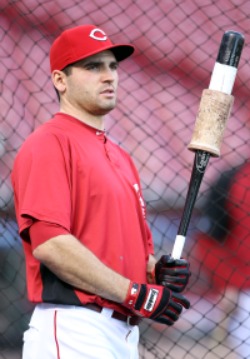 It seems we have better ways of measuring value than we have of defining it when it comes to baseball nowadays.
There are, of course, WAR (wins above replacement) and RAR (runs above replacement) and WPA (win probability added) and a ton of others that are out there or even in development now. Of course, even if you pick one you like, such as WAR, there are different formulas; the two great statistical websites of the day, FanGraphs.com and Baseball-Reference.com, differ on how they calculate WAR.
And in the end, what does it mean? What defines value? Does a player have to not only help his team win, but do you put more emphasis on those players whose teams ultimately win more? And how much of that is due to that player or his teammates?
Is the MVP vote for the best player or the most outstanding or the most valuable?
I'd always wondered these things, and now I actually had to come up with an answers, as I voted for the MVP for the first time this year. I'd voted previously for the Cy Young, but not the MVP.
The actual ballot -- which was e-mailed to me -- has these rules, the same that were written on the first ballot in 1931:
1. Actual value of a player to his team, that is, strength of offense and defense.
2. Number of games played.
3. General character, disposition, loyalty and effort.
4. Former winners are eligible.
5. Members of the committee may vote for more than one member of a team.
That doesn't help all that much, it leaves it open to interpretation and debate, which makes it quite fun.
It's also noted on my ballot that all players are eligible for MVP, including pitchers and designated hitters. Voting for the National League, I don't have to worry about the DH, but not that offense and defense are noted on the ballot rules.
The only statistic mentioned on the MVP ballot is games played, and that hurts a starting pitcher.
There are those who see the Cy Young as a pitcher's award and the MVP as a position player's award. I'm not one of those. But I do find it difficult to put a starter in the same category. As you'll see in my ballot, I do have two starting pitchers in my Top 10. Both had outstanding seasons and were among the most valuable players in the league, though I'm not sure they had the same value as an everyday player.
In the end, I'm not sure there's a right answer. That's why 31 other people vote and we try to come up with a consensus, not just on an MVP but also on what the MVP means.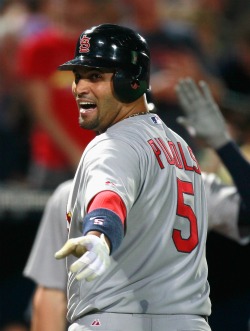 In researching my vote, I made a spreadsheet with more than 30 players, and categories including WAR (both FanGraphs and Baseball-Reference), OPS, OPS+, HR, UZR, games played, ERA, WHIP, xFIP and others. There were more I could use and in the end, I'm not sure any of these made the difference, I just liked seeing them all in front of me. I also did further research on a final list of 20, before whittling it down to about 12 and ranking them. I also talked to players, managers, coaches, scouts and other writers.
You might not agree with my ballot, but I hope you do realize I take this very seriously and put a lot of thought and work into it. With that said, here are the 10 players I turned into the BBWAA on my ballot and a little reasoning.
1.
Joey Votto
, Cincinnati -- Votto had an outstanding season offensively and has continued to improve defensively. He also helped lead his team to the playoffs for the first time in 15 years, no small feat.
2.
Albert Pujols
, St. Louis -- Consistently the best player in the game. It says something that in what is somewhat of an "off" season for him, Pujols is still as good as anyone and a worthy candidate for winning the MVP. Votto edged Pujols in just about every stat besides home runs and RBI.
3.
Adrian Gonzalez
, San Diego -- Another first baseman with a great season. Gonzalez had much less around him than either Votto or Pujols, yet still put up great numbers and nearly led his team to the playoffs.
4.
Troy Tulowitzki
, Colorado -- Tulowitzki gets dinged a bit for games played, but when he did play, he was incredible. He's a great defensive player, and maybe one of the best all-around in the game.
5.
Carlos Gonzalez
, Colorado -- Gonzalez pushed at the triple crown, but his home/road splits were drastic -- just like his team, which was 52-29 at home and 31-50 on the road.
6.
Roy Halladay
, Philadelphia -- the unanimous selection for the Cy Young Award speaks for itself.
7.
Matt Holliday
, St. Louis --
Cardinals
fans seemed to have something against the guy (well, maybe his huge contract), but he ended up with a spectacular season.
8.
Adam Wainwright
, St. Louis -- had a lower ERA than Halladay and his WHIP was just a tick higher.
9.
Ryan Zimmerman
, Washington -- like Tulowitzki, one of the best all-around players in the game. His defense gives him a boost in WAR, because he's that good.
10. Aubrey Huff, San Francisco -- Huff had a quiet great season -- until the playoffs. Remember, these votes were due before the playoffs, but he was very good even before the postseason began.
-- C. Trent Rosecrans


For more baseball news, rumors and analysis, follow @cbssportsmlb on Twitter or subscribe to the RSS feed.