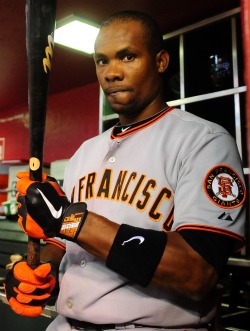 When the
Giants
left
Jose Guillen
off the postseason roster, the initial thought was that he was hobbled by a neck injury and hadn't produced well down the stretch.
Then, news broke that Guillen was linked to shipments of HGH. While San Francisco maintained that they left Guillen off the postseason roster for injury reasons, the added information that Guillen was about to go down for performance-enhancement usage certainly had to make the decision easier.
Sunday, the
New York Daily News
reveals that DEA agents first caught wind of the shipment by tracking the supplier. They noticed that almost 50 pre-loaded syringes of human growth hormone were to be sent to one Yamel Guillen in San Francisco -- the wife of Jose.
DEA agents intercepted the package, arranged delivery and upon Yamel's signature, confronted her. She consented to a search and has since returned to the Dominican Republic.
Meanwhile, MLB's Department of Investigations is exploring whether other players were sent similar shipments, as well as investigating a second shipment that may have been sent to Guillen.
Guillen has previously been dinged for HGH usage, having reportedly purchased HGH, testosterone and other steroids from 2002-05. He was set for a 15-game suspension prior to the Mitchell Report's release, but commissioner Bud Selig announced in April of 2008 that Guillen and other players named in the report would be granted amnesty.
No such amnesty would be given this time around, and Guillen is likely looking at a suspension of 50 games, the amount one must miss on the first violation of the drug agreement. It is possible that suspension could reach 100 games provided MLB both links Guillen to a second shipment and contends that is a separate and additional violation.
-- Evan Brunell
For more baseball news, rumors and analysis, follow @cbssportsmlb on Twitter or subscribe to the RSS feed.