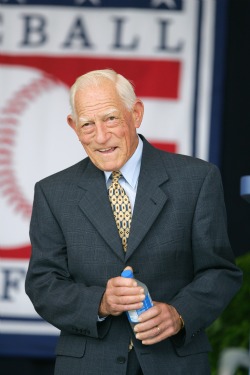 One of my favorite memories of newspapering was when an editor at the
Cincinnati Post
asked me to call Sparky Anderson for a story I was doing.
"Do you have his number?" I asked.
Nope, no need. He was listed. Thousand Oaks, Calif., George Anderson. A simple call to information and I had his number. Minutes later, I was on the phone with the Hall of Fame manager. The next 30 minutes I got to listen to Sparky Anderson tell stories about the Big Red Machine.
A year later, in 2005, I met Anderson and did a story on the
Reds
retiring his number. His former players joined him in a news conference, and Anderson didn't say too much, he just sat back as Johnny Bench and Tony Perez held court, telling their stories of Anderson. Anderson just laughed, and the old team was together again, performing at a top level -- because of Anderson.
On Thursday, some of those same people are telling stories, but in a more somber way. Here's some reaction from around baseball.
• Tony Perez:
"Sparky was a great man and a great manager. He was the man who put together some great teams and made us go. We will miss him. We love him."
• Pete Rose:
"Baseball lost an ambassador today. Sparky was, by far, the best manager I ever played for. He understood people better than anyone I ever met. His players loved him, he loved his players, and he loved the game of baseball. There isn't another person in baseball like Sparky Anderson. He gave his whole life to the game."
• Gary Nolan:
"I have a lot of respect for Sparky Anderson and am very saddened to hear of his passing. He was a heck of a manager and handled personalities on the team very well. Sparky and I had quite a few conversations about pitching philosophy, and the way he used his bullpen was the key to his success. He was like a father to the guys on the team, a heck of a leader and a great baseball mind."
• Tommy Helms:
"Sparky saw what he had and was able to get the most out of them. He was a people person. He knew how to handle people and get them to get along. If you can get even 90 percent of 25 guys on the same page, you're doing a good job. With Sparky, even if everyone didn't get along off the field, by God they were all together when they were on it. He just did an outstanding job and treated everyone with class."
• Reds owner Bob Castellini:
"All of baseball mourns the passing of one of the game's all-time great managers and ambassadors. In one way or another, Sparky touched the life of every Reds fan. Every person who visits our ballpark and Hall of Fame is reminded of his contribution to the success of this proud franchise. We offer our prayers and support to Sparky's family and friends during this difficult time."
• Bud Selig:
"I am truly saddened by the loss of Sparky Anderson. I have lost and all of Baseball has lost a dear friend. Sparky was a gentleman, a great baseball man and a superb ambassador for the game. Sparky won three World Series Championships with the Cincinnati Reds and the Detroit
Tigers
, leading several of the best teams of the last 40 years and holding the most wins as manager for both tradition-rich franchises.
"I recall with great fondness the many hours we would spend together when his Tigers came to Milwaukee. Sparky was a loyal friend, and whenever I would be dealing with difficult situations as Commissioner, he would lift my spirits, telling me to keep my head up and that I was doing the right thing.
"On behalf of our game, I send my deepest condolences to Sparky's wife, Carol, his three children, his nine grandchildren, and to all of his fans in Cincinnati, Detroit and throughout Baseball who were touched by this great man."
• Al Kaline
(
via Detroit Free Press
): "Sparky was one of the greatest people I've met in baseball. He was a leader to his players both on and off the field. He was an incredible person and I cherish the time I was able to spend with him. He was a great leader and a great baseball man."
• Lance Perish
(
via MLB.com
): "He was always pushing and cracking the whip. He just pushed the right buttons all the time. If there was ever, in my collection of my baseball career, a guy who always seemed to know the buttons to push or things to say, he did it. It's a real tribute to him as a manager, but he seemed to know the personality of everybody on the team and who to delegate what to, when to put the right guy in the right situation. Everything worked out."
-- C. Trent Rosecrans
For more baseball news, rumors and analysis, follow @cbssportsmlb on Twitter or subscribe to the RSS feed.